Supporting Patients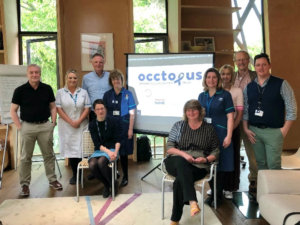 The OUH clinical team and OCCTOPUS are always keen to hear how we can help patients live well after diagnosis, treatment or surgery.  We hope information on this page will be of help.

Oxfordshire Bowel Cancer Support Group
Having a diagnosis of bowel or colorectal cancer can come as a bit of a shock! You may feel particularly isolated during this time and think you have no-one to talk to who could possibly understand the way you feel. Or you may just want to get in touch with other people who are in the same position as you. 
The Oxfordshire Bowel Cancer Support Group is run by patients for patients.  While the restrictions from Coronavirus mean the group cannot meet in person, we are hoping to run a telephone or "virtual" meet up service. 
If you'd like to learn more click on the link above for the Support Group or email administrator@occtopus.org.uk  and we can put you in touch.


A Great Relief…
Your journey to the Churchill Hospital via the toilets of Oxfordshire. View our interactive map. 
Or download the leaflet here: A Great Relief!  


Stoma Care Open Day – next event in 2021
Unfortunately, due to the coronavirus outbreak, the Stoma Care Open Day is cancelled for 2020.  OCCTOPUS will be a proud  sponsor of the Stoma Care Open Day again in 2021.  For more information, please email:  colorectal.nursing@ouh.nhs.uk.

Thank you, Tesco, for supporting these projects.