Supporting Patients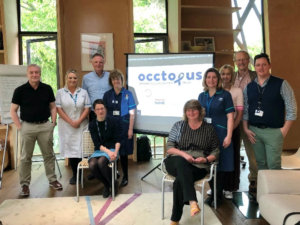 The OUH clinical team and OCCTOPUS are always keen to hear how we can help patients live well after diagnosis, treatment or surgery.
Find out more about how we can help:
The Oxfordshire Bowel Cancer Support Group is run by patients for patients. It's informal and free, new this year, and meets in three locations across Oxfordshire. Bring a carer, family member or friend with you if you wish.
A Great Relief! Your journey to the Churchill Hospital via the toilets of Oxfordshire. View our interactive map.
Stoma Care Open Day – 2021
OCCTOPUS is proud to sponsor the annual Stoma Care Open Day at the John Radcliffe Hospital.  Due to the coronavirus outbreak it is cancelled for 2020.  For more information, please email:  colorectal.nursing@ouh.nhs.uk.
Thank you, Tesco, for supporting these projects.