Supporting Patients
The OUH clinical team and OCCTOPUS are always keen to hear how we can help patients live well after diagnosis, treatment or surgery.  We hope information on this page will be of help.


Survey of Patient Safety during the Pandemic
More than 6,000 patients who underwent endoscopy at 18 NHS hospitals since the start of the pandemic have been tested and none contracted COVID as a result of the procedure, a study involving clinicians from Oxford University Hospitals NHS Foundation Trust has found.
Clinicians hope the findings will persuade people that it is safe to attend their endoscopy appointments, which can be crucial in detecting cancer at an early stage. Detecting and treating cancer early is a key part of ongoing successful treatment.
The findings coincide with a national campaign reminding people that safe cancer care is still available. A recent survey showed that nearly half the public would delay or not seek medical help at all, with 22 per cent not wanting to burden the health service, and a similar number saying that fear of getting COVID-19 or passing it onto others was a major reason for not getting help.
The study, published in the international gastroenterology and hepatology journal, Gut, was conducted in 18 UK healthcare centres, including teriatry and local settings serving a broad range of populations.

Oxfordshire Bowel Cancer Support Group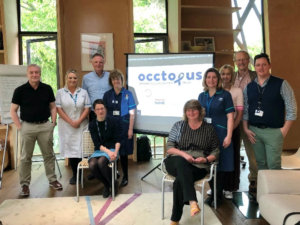 Having a diagnosis of bowel or colorectal cancer can come as a shock.  You may feel particularly isolated during this time and think you have no-one to talk to who could  possibly understand the way you feel. Or you may just want to get in touch with other people who are in the same position as you. 
The Oxfordshire Bowel Cancer Support Group is run by patients for patients.  While the restrictions from Coronavirus mean the group cannot meet in person, we are available via a telephone or "virtual" meet up service. 
If you'd like to learn more click on the link above for the Support Group or email administrator@occtopus.org.uk  and we can put you in touch.


A Great Relief…
Your journey to the Churchill Hospital via the toilets of Oxfordshire. View our interactive map. 
Or download the leaflet here: A Great Relief!  


Stoma Care Open Day – next event in 2021
OCCTOPUS will once again be a proud sponsor of the Stoma Care Open Day in 2021.  For more information, please email:  colorectal.nursing@ouh.nhs.uk.